The QBR was founded in 1988, and has been performing together regularly ever since.
The QBR is a standard brass quintet consisting of 2 Trumpets, French Horn, Trombone, and Tuba.
The members are (left to right): Zack Smith (trumpet), Kent Baker (horn), Bill Gray (tuba), Rob Mesite (trombone), Charlie Peterson (trumpet)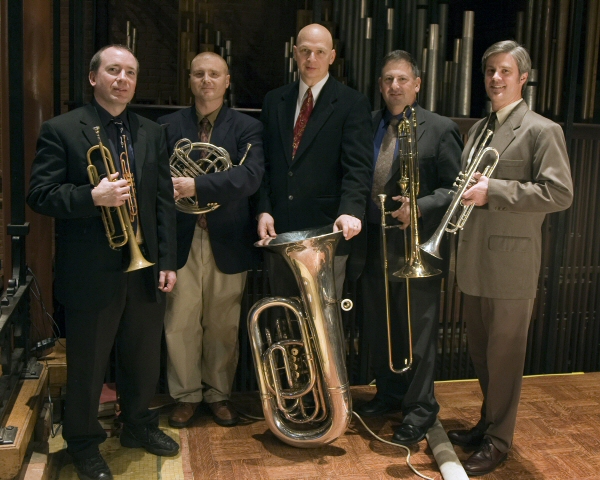 in front of the organ pipes at St. Mark's Episcopal Church in Washington, DC
Charlie Peterson studied music at North Texas State University. He is an active freelance musician performing with bands, orchestras, and chamber music groups. He has written and published numerous brass quintet & trio arrangements and can be heard on a few big band CDs, a gospel CD, the QBR CD, the Beltway Brass Quintet's 3 CDs, and his own solo album.

Zack Smith studied music at North Texas State University. He is a founding member of the Dixie Power Trio (8 CDs since 1991) and performs in the New Line Brass Band and other groups as well. In addition to composing original material for his band, he has written numerous jazzy brass quintet & trio arrangements, many of which he recorded on the Beltway Brass Quintet CDs.

Kent Baker studied music at Southern Illinois University and Illinois State University. He is a member of the US Air Force Band. A former member of the Cavaliers Drum and Bugle Corps brass staff, he is active as a designer, instructor and judge for marching bands and indoor guards and drumlines.

Rob Mesite studied music at Marshall University where he received a BA in Music Education and Ithaca College where he received a masters degree in trombone performance.   He recently retired from the US Air Force Band and is a long time member of the McLean Orchestra.

Bill Gray received his Master of Music degree from Indiana University in 1984 where he studied with Harvey Phillips. He has been a member of the US Navy Band since leaving the Santiago Philharmonic, Chile in 1992.